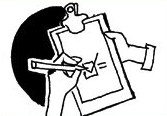 Here are the 11 steps:
Confirm the address of both your retailer and distributor from your bill or website (via the electricity distributor look-up tool). For instance, my retailer is AGL and my distributor is Energex (Energex sells wholesale electricity to AGL)
Write a Notice letter – see my sample http://www.detoxonline.com.au/copy-this-smartdigital-meter-refusal-notice-and-send-to-agl/ – and post, by registered post, to both companies, ensuring you get a confirmation reply
Lock up your analogue meter box with a good lock, one that can't be cut with bolt-cutters
Make the meter data (which belongs to the electricity distributor) accessible to be read
Display a sticker – see the 2 samples
Display a copy of your Notice in a secure weather-proof way
Be wary that it might be called an 'upgrade' aka digital/smart meter installation
Stay calm if the electricity meter installer harasses you
Point out that YOU, as the legal occupant, own the meter box itself (renter or landholder) and have taken appropriate legal steps to protect it
Point out that the meter installer is liable for WILFUL AVOIDANCE if he/she continues to attempt to install the 'digital/smart' meter against your wishes
You have a common law right to protect your property – the meter box – from trespass. You have the right to resist having your possessions modified, devalued or damaged without consent.
WHO OWNS WHAT
THE ELECTRICAL DISTRIBUTOR (e.g. Energex) owns the electricity provided by the retailer (AGL).
THE ELECTRICAL DISTRIBUTOR also owns the meter itself and the meter data
THE LEGAL OCCUPANT (RENTER OR LANDHOLDER) owns everything else i.e. the wiring, the fuse panel, the metal box and the underlying building structure
 AER WATCHDOG
Don't be told that you will have to pay an exorbitant fee for the analogue meter readings or have your electricity cut off, in the event of retaining your old analogue meter.
The Australian Energy Regulator (AER) oversees matters relating to the transmission and distribution of electricity in Australia. They have already ruled that consumers wanting to retain their old analogue meters in Victoria can do so, at a reasonable cost determined by the AER (NOT BY THE ELECTRICITY DISTRIBUTORS OR RETAILERS).