Far North Qld Seminar Tour, September – October 2019,
cancelled due to insufficient numbers…
SAFEGUARD YOUR CLINIC AGAINST 3 HIDDEN Workplace Health & Safety LIABILITIES 
1) MOXA SMOKE INHALATION
2) EMF WIRELESS RADIATION
3) Methyl-Iso-Thiazolinone MIT LUNG & SKIN ALLERGEN

This seminar highlights 3 hidden environmental risks – involving SMOKE, RADIATION and a TOXIC CHEMICAL – commonly found in health clinics.
Address those niggling feelings of disquiet about any of the 3 highlighted topics, and sharpen up your clinic protocols with some timely precautions.

4 Approved  CPD Points (Professional Issues)  AACMA      ANTA       ANPA
LOCATIONS:      

CAIRNS

                     22 September 2019



                                  TOWNSVILLE

        29 September 2019



                                  MACKAY

                   6 October 2019
VENUES:               

Hotel Venues to be confirmed…
TIMES:

                   SUNDAY 9.00 am – 2.30 pm



COST:  

                    $220 INCLUDES MORNING TEA AND HOT BUFFET LUNCH
DISCOUNT:

          15% EARLY BIRD DISCOUNT IF PAID BEFORE 30 August

CERTIFICATE:    

CERTIFICATE OF ATTENDANCE

 

WILL BE GIVEN ON COMPLETION

I feel passionately about all 3 topics of my seminar tour! Having been a clinic practitioner for over 30 years, I have distilled my main concerns into this trio of workplace worries.
I'm an AHPRA registered TCM Practitioner – you can look me up on their website.

AHPRA


You can also see – from my News page – that I have done a fair amount of research on EMF Radiation over the years, and I'm keen to share this with you!

EMF News


Next year, I'm planning to take this seminar to southern Queensland and other Australian and New Zealand locations. If you're interested, please drop me a line on my contact form,  and I'll keep you in the loop.

2020 Expressions of Interest



SEMINAR OUTLINE
MOXA SMOKE INHALATION
8.30-9.00 Welcome Cuppa and Student Registration
9.00-9.30  Discuss Industry concerns about the carcinogenic components of SIDESTREAM Moxa smoke – sidestream smoke being the trapped smoke from the burning tip that is inhaled inadvertently – especially the long-term cumulative effects on Clinic Staff and Patients.
9.30-10.00  Discuss the traditional actions of Moxibustion in the context of modern substitutes: Infrared Lamps and Hand-Held Devices.
10.00-10.30  Morning Tea
EMF WIRELESS RADIATION
10.30-11.30  Examine the convoluted history of EMF Wireless Radiation 'Standards' worldwide and within Australia, looking closely at the inadequate emphasis on THERMAL-ONLY biological effects.
Look at the evolution of EMF 'Standards' in our 'Risk Society', and define the suitability – or otherwise – of risk assessment methods.
Highlight the disparity between the no-claims stance taken by the INSURANCE INDUSTRY and the ever-increasing EMF exposure levels permitted by statutory authorities.
11.30-12.30  Briefly look at the 5G backlash worldwide, and highlight the 'weight-of-evidence' peer-reviewed recognition of NON-THERMAL biological effects.
Provide Practitioners with the logistical skills to protect their clinics and themselves from health injuries and legal damages relating to EMF exposure.
 12.30-1.30  Hot Buffet Lunch (GF, DF, Vegan options)
METHYL-ISO-THIAZOLINONE (MIT) LUNG AND SKIN ALLERGEN
1.30-2.30 Look at how many clinic products contain this allergenic chemical, using group work to identify label ingredients.
Look at why MIT was infamously classified as CONTACT ALLERGEN OF THE YEAR in 2013 by the American Dermatitis Society!
Examine MIT's history of use and the legal implications of the complete absence of a medical screening test.
Discuss product substitution and learn how to avoid cumulative cross-reactions in Patients, Practitioners and Staff members.
 

2.30 Finish
Hair Tests are not available during 2019-2020 due to Lecturing commitments, apologies…
Improve your longevity by urgently 
addressing the 6 Cell Damages with Cellular Hair Testing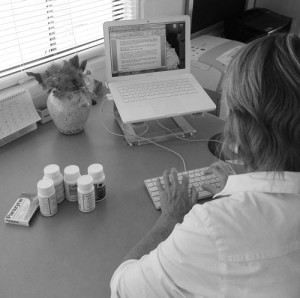 We can succumb to the multiple toxic insults of the new millenium or we can evolve quickly:
A blood test DOES NOT diagnose the Cell mechanics
A hair test IS the missing diagnostic key
A 3-month or 6-month Cellular Detox Program CAN clear the accumulated toxins of a lifetime, and protect your precious Cells from repeated toxic onslaughts…
Our two unique Cell Detox reports are based on Hair Tests highlighting the 6 Cell Damages: Radiation, Thyroid Dysfunction, Food Intolerances, Oestrogen Dominance, Heavy Metal toxicity, and Poor Methylation.
Our reports 'collate and educate' to help you become a better detoxifier for life.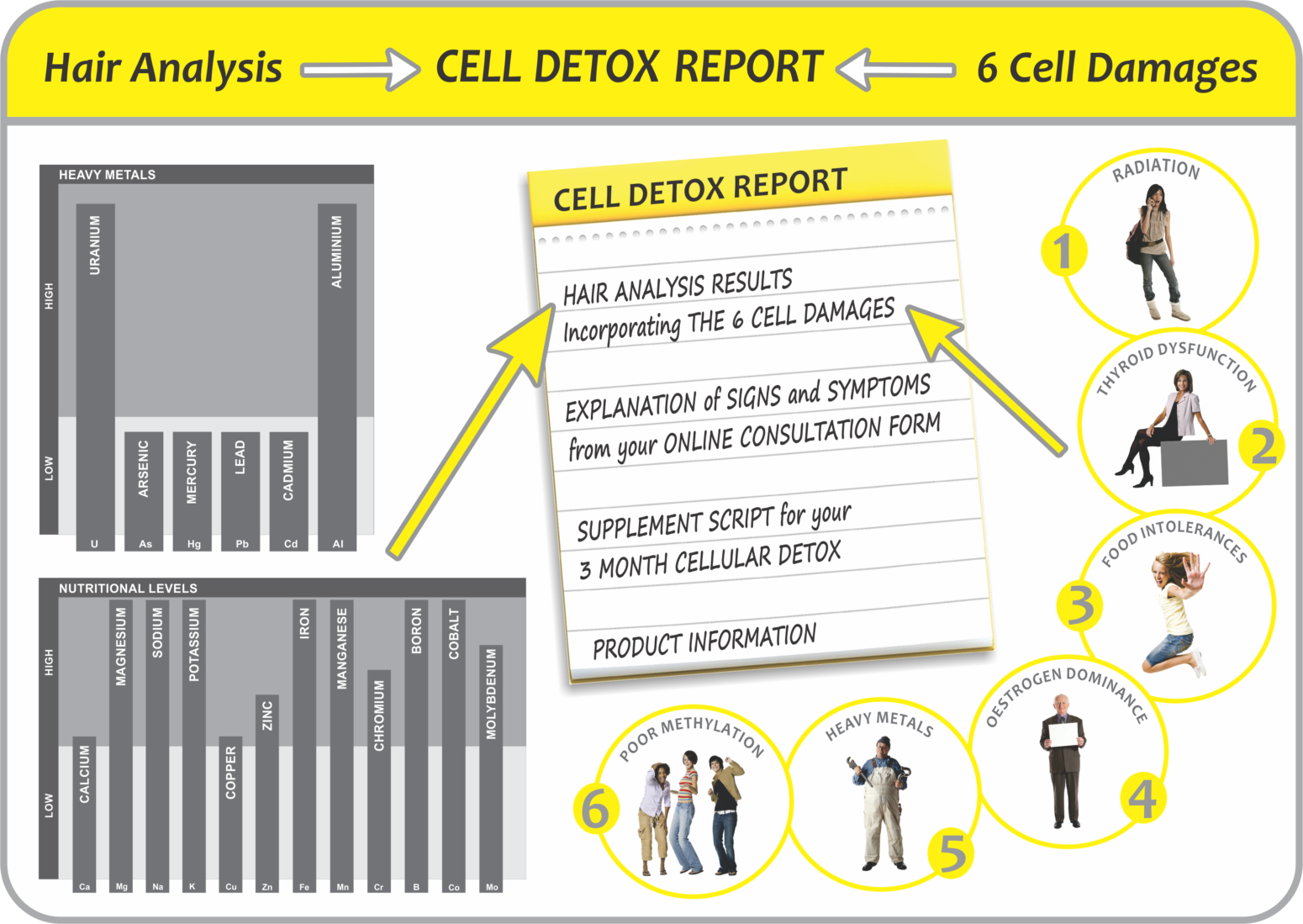 Hair Tests are not available during 2019-2020 due to Lecturing commitments, apologies…
• Our emphasis is on  Detox protocols, highlighted by the Before-and-After Hair charts.
• O

ngoing assistance is given to maintain cellular harmony for your long-term protection.