NEW ONLINE WEBINAR Series
4 CPD points: PROFESSIONAL ISSUES

1) MOXA SMOKE INHALATION (1 hr)
2) MIT LUNG & SKIN ALLERGEN (1 hr)
3) EMF RADIATION (2 hrs)
As clinic practitioners, we are familiar with Professional Issues ranging from financial considerations to mental health issues. But what of the new and emerging issues that are sneaking up on us so quickly, we can scarcely keep up?
My first Net of Knowledge webinar series – available at China Books Education –  is entitled Safeguard Your Clinic Workspace. It will introduce you to Airborne and Invisible threats that may not yet have registered on your health and safety radars.
For instance, have you considered the long-term, cumulative effects of inhaling Moxa smoke?


Do you know about MIT, the highly allergenic water preservative present in so many clinic products like paint and handwash?

Do you understand the 'non-thermal' safety limits for EMF radiation – from wireless devices surrounding you – in this most catastrophic of all invisible health threats?
All 3 topics – discussed in my series – may be affecting you every day of your clinic lives.
All 3 Airborne and Invisible threats require urgent mitigation plans.
Go to this link to read a full description of the 3 webinar courses in this series.
---
Improve your longevity by urgently 
addressing the 6 Cell Damages with Cellular Hair Testing
(not available due to online teaching and writing commitments in 2020/2021)

We can succumb to the multiple toxic insults of the new millenium or we can evolve quickly:
A blood test DOES NOT diagnose the Cell mechanics
A hair test IS the missing diagnostic key
A 3-month or 6-month Cellular Detox Program CAN clear the accumulated toxins of a lifetime, and protect your precious Cells from repeated toxic onslaughts…
Our two unique Cell Detox reports are based on Hair Tests highlighting the 6 Cell Damages: Radiation, Thyroid Dysfunction, Food Intolerances, Oestrogen Dominance, Heavy Metal toxicity, and Poor Methylation.
Our reports 'collate and educate' to help you become a better detoxifier for life.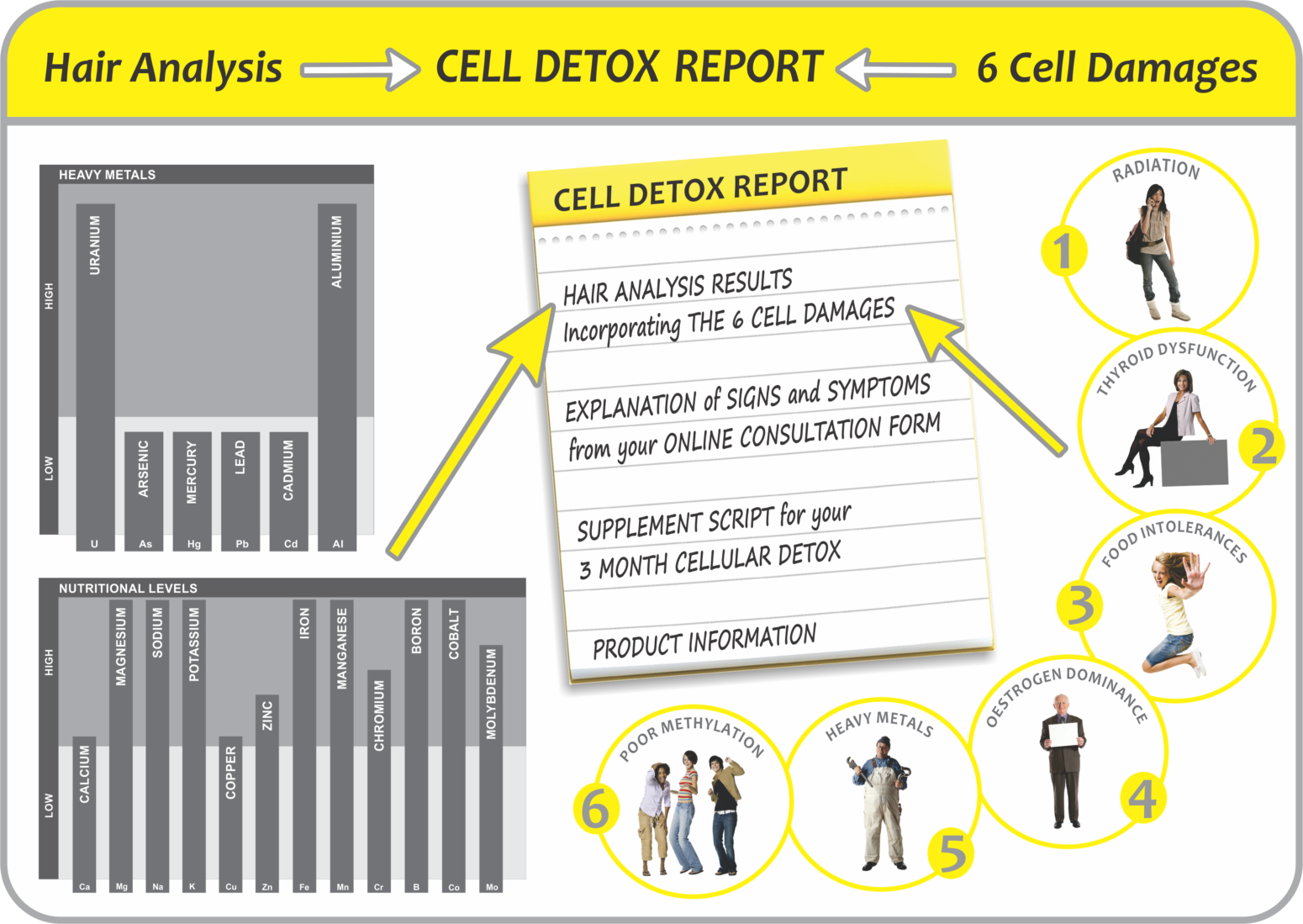 • Our emphasis is on  Detox protocols, highlighted by the Before-and-After Hair charts.
• O

ngoing assistance is given to maintain cellular harmony for your long-term protection.